The music material for 2023 will be from Mezőkölpény.
Music Instructors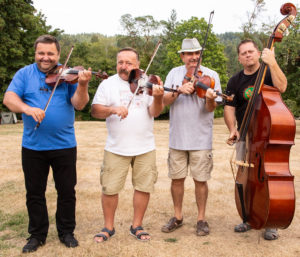 Dűvő has taught music at folk camps throughout Europe and are a favorite at folk festivals in Hungary. They play a vast repertoire from all ethnic groups of the Carpathian basin and Felvidék area, have earned the "Young Master of Folk Arts" in 1983, are the accompanying band for the Nógrád Dance Ensemble, and have played for many recent Western Canadian Hungarian Festivals. Dűvő has released at least 12 major recordings as well as numerous teaching recordings.
The members of Dűvő:
Dénes Hrúz plays violin, duda and ütögardon

Szabolcs Hrúz plays violin, kontra and koboz.

Zsolt Nagy plays clarinet, kontra and furulya.

Albert Mohácsy plays bass, koboz, and ütögardon
More information on Dűvő can be found on their web page at www.duvo.hu.
---
Instruction will be available on all of the above-mentioned instruments.