István (Pisti) Kis
Born in Transylvania, István (Pisti) Kis grew up in the authentic environment of Magyarlapád. From 1995 through 2004, he worked as a professional dancer of the Háromszék Ensemble. István regularly teaches and choreographs at various schools, amateur groups, and camps, including Magyarlapád, Kommandó, Erdővidék, Szászcsávás, and Csipke folk dance camps. He has won various awards, including first and second place at the International Legényes Competition with the Magyarózd and Méra pontozós. In 2004, István earned the prestigious Young Master of Folk Art award from the Hungarian government. He has studied folk dance teaching at the College of Performing Arts in Budapest. Since 2005, he has been the artistic director of the 130 member Bem Ensemble. He married his wife, Erika Kis Demeter in a traditional wedding in Magyarlapád, which was aired on Hungarian TV. He and his wife Erika have two beautiful daughters.
Read Istvan's detailed resume in Hungarian here
Dóra Szőke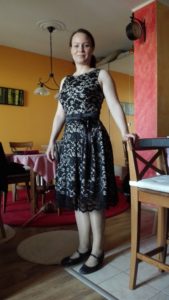 I was born in Kecskemét on November 16, 1982. The love of movement and music has been part of my life since I was a small child.  From the age of five, I attended musical physical activity classes.  When I was seven, I moved into jazz ballet classes, taught by the famous and esteemed Ildikó Huszár and Atttila Varga. From the age of twelve, I studied and came to love folk traditions and folk dance as a member of the Kecskemét Dance Ensemble, officially recognized since 1998 for its high quality.
As a young adult, I became one of its mature dancers. During the fourteen years I was with the ensemble, I learned a great deal as a person and as a dancer from the ensemble's directors, Rita Szabó Bedőcsné and József Bedőcs and, alternating with them, from Eszter Haránt Lukácsné and László Lukács (who were with the Hungarian State Folk Ensemble for many years and who won the distinction of Young Masters of Folk Arts). After graduating from the Higher Education Department of the Kecskemét University and while completing studies in the teaching of dance at the Hungarian Conservatory of Dance, I had an opportunity to teach folk dance to a children's group that served as a preparatory or feeder ensemble in the Art School of the Ferenc Erdei Cultural Center.
From 2005 onward, I taught a year at the Kiskun Institute of Basic Art Education and served three years as artistic director of the Kadarka Folk Dance Ensemble in Cserkeszőlő. Seeking further challenges, I won acceptance to the internationally recognized Budapest Dance Ensemble in 2006 and was able to develop further under the guidance of Zoltán Zsuráfszky. I continued my professional dance career in 2007 in the Duna Art Ensemble.  I owe much gratitude to Katalin Bonifert, Zsolt Juhász, and László Vámos because, along with experience in folk arts, I was able to gain enormous experience in theatrical presentation during my seven years there.  Then I felt that the time has come that I should return to my original goal of teaching folk dance, armed, so to speak, with considerable experience and with new dance material.  Thus, I came to the Péter Vermesy Art School in Maglód where I have been teaching for the past three years.
My goal is to transmit the knowledge, the experience, and the joy I have gained not only to the children of Maglód, but, as opportunity may present itself, to give to other children and to adults something from my creative side by way of new choreographies and performances with my colleagues and my students for our pleasure and that of our audience.