László Tihanyi will return for his fourth year at camp and second year teaching beginner dance classes. He is a native of Hungary and has resided in Oakland, California since September 2013. Since his arrival he has been the Assistant Artistic Director and Principal Dancer of Eszterlanc Hungarian Folk Dance Ensemble. His background as an amateur Hungarian folk dancer and dance teacher has led the group to invite him from Hungary for leadership and teaching roles in the US. László received his Bachelor of Science in Hungarian folk dancing and folk dance coaching from the Dance Academy Budapest, Hungary.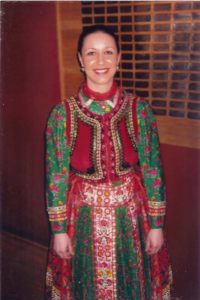 Viktoria Kovács was born and raised in Szeged, Hungary. She started dancing ballet at the age of 5 until she immigrated to the United States with her family at the age of 15. Dancing was everything to her, so she felt very lost here until the San Francisco based Eszterlanc Hungarian Folk Ensemble started up again in 1999 when she joined. She was already in love with Hungarian folk dance since at an early age she attended dance practices with her mother who was a dancer in a Hungarian folk dance group for 20 years in Szeged, Hungary. Hungarian folk dancing gave Viktoria her identity back as a dancer and as a Hungarian living in the United States. In 2004, she became the artistic and costume director of the group until 2016 when she left for maternity leave. Throughout her 12 years as artistic director she attended dance camps, workshops and festivals to bring in new material to the group and to further her knowledge in Hungarian folk dance and culture. She has rejoined the group recently as artistic director with László Tihanyi and as the costume director.
Keeping Eszterlanc Hungarian folk dance ensemble alive is vital to her as she would like to pass on everything she has learned to the future generations, including her daughter.