In 2022 László Tihanyi returned for his fifth year at camp and third year teaching beginner dance classes. He is a native of Hungary and since moving to the US has resided in Oakland, California where he was Assistant Artistic Director and Principal Dancer of Eszterlanc Hungarian Folk Dance Ensemble. His background as an amateur Hungarian folk dancer and dance teacher has led the group to invite him from Hungary for leadership and teaching roles in the US. László received his Bachelor of Science in Hungarian folk dancing and folk dance coaching from the Dance Academy Budapest, Hungary. He currently resides in Ohio.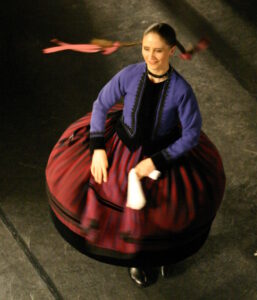 Anikó Balássy graduated from the folk-dance department of the Hungarian Dance University (Magyar Táncművészeti Egyetem) with a degree in pedagogy. Between 1987 and 2006 she danced in the Honvéd Ensemble (today's Hungarian National Dance Ensemble). After completing her professional dance career, she taught at an elementary school for the arts in Kispest and at the Hungarian Dance University.
Anikó has been living in Cleveland since 2018 and educating and mentoring young people in the folk-dance community there.
Laci and Anikó will taught the beginner Vajdaszentivány class.